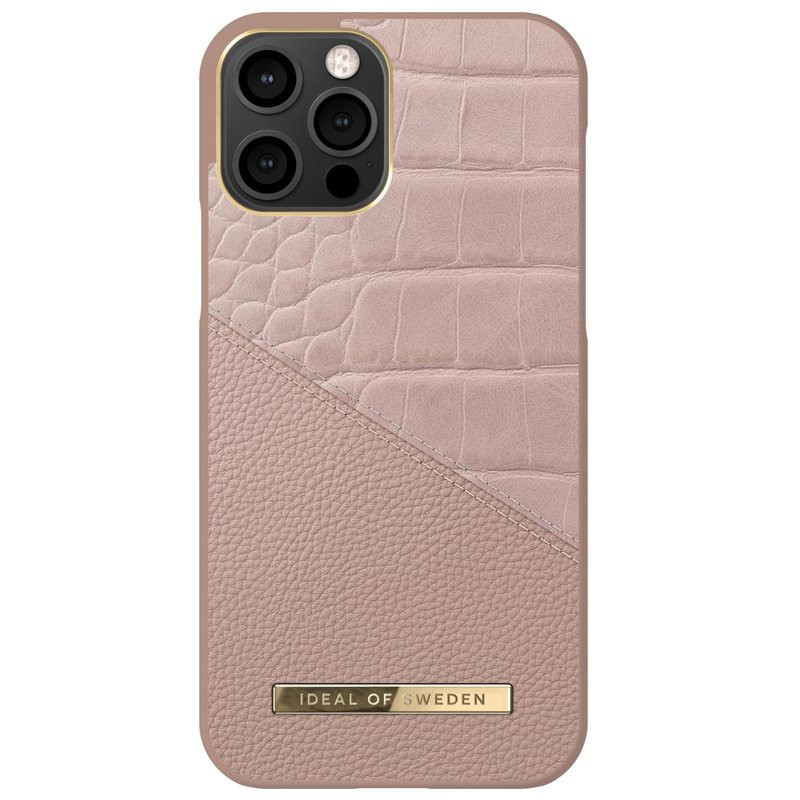 Agrandir l'image
Coque rigide iDeal of Sweden Rose Smoke Croco Apple iPhone 12/12 PRO
7637-G12M-Bx
Neuf
Coque rigide iDeal of Sweden Rose Smoke Croco Apple iPhone 12/12 PRO. Ce design fusionne une finition en eco-cuir grainé avec une texture croco irrésistible...
env. 3-5 jours. En stock chez le fournisseur.
Attention : dernières pièces disponibles !
Date de disponibilité:
En achetant ce produit vous pouvez gagner jusqu'à 52 points . Votre panier totalisera 52 points qui peut être converti en un bon de réduction de 5.20 CHF .
30 jours pour changer d'avis

Pas de stress, vous disposez de 30 jours pour changer d'avis et effectuer un retour.

Livraison rapide et Gratuite

Livraison rapide et Gratuite sans montant minimum de commande. Délai de livraison indiqué sur la fiche produit.

Paiements simples et sécurisés

Les données de paiements sont cryptées grâce au protocole SSL (Secure Socket Layer).
Description
Coque rigide iDeal of Sweden Rose Smoke Croco Apple iPhone 12/12 PRO

Rose Smoke Croco met en valeur la puissance du croco dans une délicate rose poussiéreuse pour un impact maximal. Ce design fusionne une finition en eco-cuir grainé avec une texture croco irrésistible pour une pièce hypnotisante à double texture.
iDeal of Sweden Atelier Case - Inspiré des défilés et des salons de la mode dans le monde
Coque de protection élégante au look noble
Structure en Eco-cuir / 100% cuir Vegan (similicuir) / coque rigide robuste
Détail en couleur or autour de la caméra
Mix & Match: porte-cartes assortis et nos coques pour AirPods.
Des accents élégants définissent des points forts optiques
Coque magnétique compatible avec les étuis, porte-cartes magnétiques, pochettes et les supports
Accès gratuit à tous les ports et boutons
Le chargement sans fil est pris en charge

iDeal of Sweden combine style et protection à la perfection: le design élégant et luxueux fait de votre Apple iPhone 12 / Apple iPhone 12 PRO une pièce de créateur, inspirée des podiums et des foires de mode du monde entier. Bien entendu, votre iPhone 12 / iPhone 12 PRO reste simple d'utilisation. La construction bien pensée renferme et protège les coins et les bords, mais toutes les connexions et boutons sont librement utilisables.

PU Premium
Tous nos produits sont fabriqués dans des matériaux de la plus haute qualité, sélectionnés avec soin. Nous sommes particulièrement fiers de notre matériau PU Premium, qui est identique au cuir véritable mais plus durable ; il est parfait pour les accessoires de téléphone qui résistent à l'usure. Le PU Premium rend également nos produits haut de gamme abordables et d'un excellent rapport qualité-prix. La version écologique appelée eco-saffiano est aussi très connue, où le cuir naturel est remplacé par de l'éco-cuir ou cuir régénéré. Le saffiano est surtout utilisé pour la réalisation de portefeuilles et de sacs pour femme mais également pour la création de petite maroquinerie et accessoires pour téléphones mobiles.

Accessories of Attraction est unique en ce sens qu'il associe fonctionnalité, tendances et style. Nos portefeuilles, étuis et produits magnétiques sont tous compatibles entre eux. Les portefeuilles sont traditionnels et d'un style intemporel, ce qui les rend parfaits pour être assortis aux dernières modes, tendances, couleurs et motifs. Jusqu'à présent, les clients étaient obligés de choisir entre un portefeuille fonctionnel et un étui de téléphone à la mode.
Caractéristiques:
- Coque en PU Premium (100% cuir Vegan) Apple iPhone 12 / Apple iPhone 12 PRO
- Détail en couleur or autour de la caméra
- Doublure en microfibre de haute qualité
- Fabriquée pour s'adapter parfaitement à votre appareil
- Conception fine et légère pour un maximum de praticité.
- Partie de la gamme de produits magnétiques: Accessories of Attraction
- Coque magnétique compatible avec les étuis, porte-cartes magnétiques, pochettes et les supports
- 100% Cuir vegan
- Mix & Match: porte-cartes assortis et nos coques pour AirPods.
- Découpes précises et capuchons de boutons tactiles pour un accès facile
- Bords surélevés qui protègent l'appareil photo de votre smartphone
- Compatible avec le chargeur sans fil Qi
- Design élégant qui fait ressortir votre Apple iPhone 12 / Apple iPhone 12 PRO
- Couleurs disponibles : -
- Fabricant : iDeal of Sweden
- Modèle : Rose Smoke Croco
- Numéro de modèle: IDACSS20-I2061-202
- Compatibilité : Apple iPhone 12 / Apple iPhone 12 PRO